Find out what makes PowerRail THE Supplier for Locomotive Truck Parts
PowerRail is a certified AAR M-1003 distributer, manufacturer, and remanufacturer of aftermarket locomotive parts and components, offering a wide range of products, supporting both EMD and GE locomotives. Backed by our extensive Engineering and Development Departments, we continually strive to provide Enhanced Products that reduce costs associated with field failures and downtime.
Stop by Booth 3406 at the Railway Interchange Convention as PowerRail proudly unveils the latest in our new line of truck parts…Brake Heads. PowerRail now manufactures and supplies all OEM standard and Canted EMD and GE-style brake heads.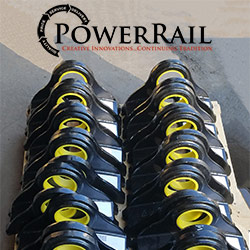 EMD Switchers with Flexible or Universal trucks
GP Locomotives with Clasp & Single Shoe Brake Applications
SD Locomotives with Flexicoil, HTC, and HTCR trucks
GE Locomotives with 2 and 3 Axle Trucks
PowerRail is a United States-based company, with additional locations in various parts of the world, including Australia and Europe. Our Corporate Offices and Main Distribution Center are located in Duryea, PA. Our remanufacturing facilities, located around the country, offer the highest quality components. PowerRail Electronics (controllers, Cabinets, Control Stands, etc.), Cooper Bearings (bearings and Journal boxes), PowerRail Manufacturing (air compressors, Roots blowers, pumps, etc.), PowerRail Industries (traction motors, generators, alternators, etc.), Avoca Rail Products (levers, adjusters, wear plates, and traction motor covers, etc.) just to mention a few. In addition, PowerRail Locomotive Services provides Light Repair, Re-wires, Truck Work, etc. and PowerRail Mobile Maintenance provides on-site service and repairs.
See PowerRail at Railway Interchange, Sept. 22-25, Minneapolis, Minn.
Booth #3406