Partnership Webcast
Partnering with Progressive Railroading positions your company as an education and solutions provider
Benefits of Webcasts
Branded content that points users right to your website in an attendance-building email campaign
Strong, intentional promotion of webcast to drive registration
Constant on-screen branding appearing throughout your webcast
Exclusive database of registrants and attendees, including email addresses, name, title, and company
12 months of increased exposure of webcast and brand on ProgressiveRailroading.com
Market data from a single-answer, multiple-choice question on the registration page
Mechanical Specifications/Materials Needed
Logo: 300 x 300 pixels (min size) 72 dpi or higher. File type: pdf or eps preferred (will also take gif or jpg)
URL: Provide landing page URL
Email contact: for leads
Registration Question: One question with up to 4 single choice responses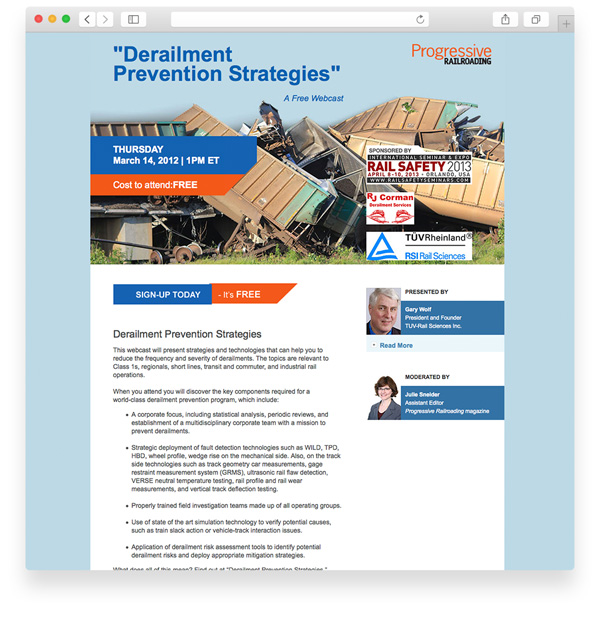 View Sample
FastCast
This "webcast-light" is an economical, highly customized event: truly the perfect entry-level webcast sponsorship opportunity.
As a sponsor, you get:
Sole-sponsored, custom content, with available assistance to ensure success
Choice of speaker or presenter
A full 30-minute, fast-paced broadcast
Branded promotional emails during the two weeks before the webcast
Optional promotion to your prospect list
Constant on-screen branding appears throughout your webcast
Exclusive database of registrants and attendees, including email addresses, name, title, and company
Materials Needed
Logo and URL
FastCast title
FastCast summary with learning objectives
Presenter name, photo and bio
Presenter contact information
Image for promotion (product image or promotional image)
Powerpoint presentation slides (The industry average is roughly 1 minute per slide, and FastCast are capped at 30 minutes)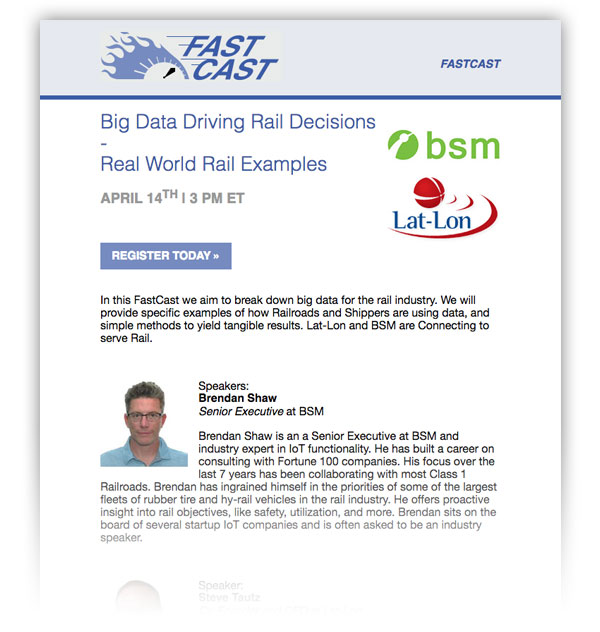 View Sample
DemoCast
Short of showing people your products in person, in your booth, on a show floor, our DemoCast is the best way to show interested buyers how your products can help them. DemoCasts are live, 15-minute product demonstration webcasts. After your live event, you receive the full registrant and attendee list, including emails.
DemoCasts are heavily promoted to rail professionals. Your company is promoted in:
Four Daily News eNewsletters
Three days on ProgressiveRailroading.com
Two email blasts (13,000 recipients/blast)
You also receive logo recognition on marketing promotions and two day-of reminder emails to registrants.
Details
Option to show a pre-recorded demo video
Five-minute Q&A with attendees
Archived on ProgressiveRailroading.com for six months
Reporting: Full registrant and attendee list (includes emails)